Nepal

topographic map

Click on the map to display elevation.
About this map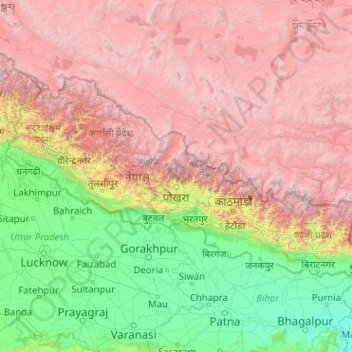 Minimum elevation: 21 m
Maximum elevation: 8,211 m
Nepal is divided into three principal physiographic belts known as Himal–Pahad–Terai. Himal is the mountain region containing snow and situated in the Great Himalayan Range; it makes up the northern part of Nepal. It contains the highest elevations in the world including 8,848.86 metres (29,032 ft) height Mount Everest (Sagarmāthā in Nepali) on the border with China. Seven other of the world's "eight-thousanders" are in Nepal or on its border with Tibet: Lhotse, Makalu, Cho Oyu, Kangchenjunga, Dhaulagiri, Annapurna and Manaslu. Pahad is the mountain region that does not generally contain snow. The mountains vary from 800 to 4,000 metres (2,600 to 13,100 ft) in altitude, with progression from subtropical climates below 1,200 metres (3,900 ft) to alpine climates above 3,600 metres (11,800 ft). The Lower Himalayan Range, reaching 1,500 to 3,000 metres (4,900 to 9,800 ft), is the southern limit of this region, with subtropical river valleys and "hills" alternating to the north of this range. Population density is high in valleys but notably less above 2,000 metres (6,600 ft) and very low above 2,500 metres (8,200 ft), where snow occasionally falls in winter. The southern lowland plains or Terai bordering India are part of the northern rim of the Indo-Gangetic Plain. Terai is the lowland region containing some hill ranges. The plains were formed and are fed by three major Himalayan rivers: the Koshi, the Narayani, and the Karnali as well as smaller rivers rising below the permanent snowline. This region has a subtropical to tropical climate. The outermost range of the foothills called Sivalik Hills or Churia Range, cresting at 700 to 1,000 metres (2,300 to 3,280 ft), marks the limits of the Gangetic Plain. Broad, low valleys called Inner Terai Valleys (Bhitri Tarai Upatyaka) lie north of these foothills in several places.
Other topographic maps
Click on a map to view its topography, its elevation and its terrain.