Luang Namtha

topographic map

Click on the map to display elevation.
About this map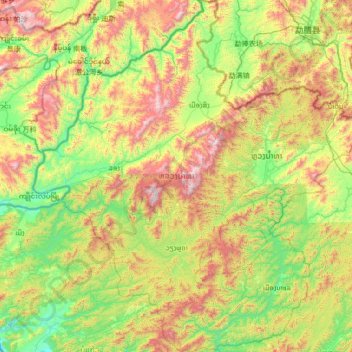 Minimum elevation: 366 m
Maximum elevation: 1,992 m
The Nam Ha National Biodiversity Conservation Area (NBCA) has dense forest covering 90% of the area. May to September are the rainy months with average annual rainfall of 1,256 millimetres (49.4 in). December to February are the winter months with temperatures touching as low as 5 °C (41 °F). Heavy fog is common in the morning with warm and sunny middays. The average annual temperature is 25.75 °C (78.35 °F). Vegetation zones in its plains are between 540–1,000 metres (1,770–3,280 ft) elevation, consisting of bamboo, secondary evergreen forest and scrub (introduced by humans). In the Northern Highlands zone, between elevations of 1,000–2,094 metres (3,281–6,870 ft), primary evergreen forest is mixed with secondary forest as well as large patches of Imperata grass. In the Southern Highlands, which range between 1,000–1,572 metres (3,281–5,157 ft) elevations, there is evergreen forest and scrub. Secondary evergreen forests and scrub are found in the Nam Kong area bordering the Chinese border, lying between elevations 600–1,556 metres (1,969–5,105 ft). Wildlife reported from the NBCA are wild cattle such as guar and banteng, Asian wild dogs, tigers, clouded leopard, bears, monkeys and gibbons and also muntjac. The conservation area was initially established covering an area of 677 square kilometres (261 sq mi) in 1991 which was subsequently enlarged to an area 2,244 square kilometres (866 sq mi) (entirely within the province) which borders with Shiang Yong Protected Area in Yunnan province in China. There are 33 large mammals (of which 22 are key species), including Malayan sun bear and black cheeked crested gibbons, and 288 species of birds (of which 18 are key species). It has been designated as an Asian Heritage Site. One issue of concern is of rubber cultivation in large areas.
Other topographic maps
Click on a map to view its topography, its elevation and its terrain.