Tongatapu

topographic map

Click on the map to display elevation.
About this map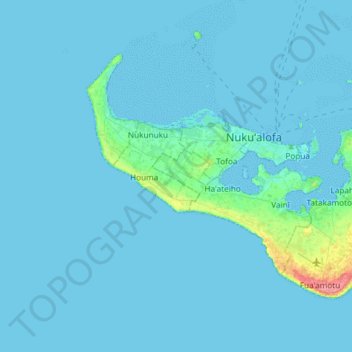 Minimum elevation: -1 m
Maximum elevation: 70 m
Tongatapu is the main island of Tonga and the site of its capital, Nukuʻalofa. It is located in Tonga's southern island group, to which it gives its name, and is the country's most populous island, with 74,611 residents (2016), 70.5% of the national population, on 260 square kilometres (100 square miles). Based on Google Earth Pro, its maximum elevation is at least 70 metres (230 feet) above sea level along Liku Road at 21 degrees 15 minutes and 55.7 seconds south 175 degrees 08 minutes 06.4 seconds west, but could be even higher somewhere else. Tongatapu is Tonga's centre of government and the seat of its monarchy.