Redhill

topographic map

Click on the map to display elevation.
About this map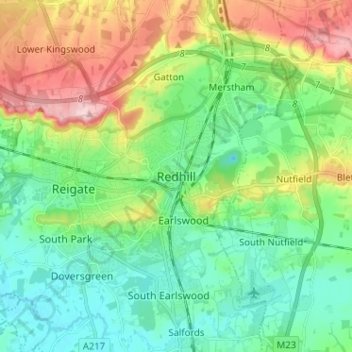 Minimum elevation: 47 m
Maximum elevation: 236 m
To the north, the town joins with the village of Merstham, north of which there is a "wind gap" in the chalk hills of the North Downs, at an elevation of 120 metres (390 ft) above sea level, through which the A23 road heads in from London. Geologists have speculated that there may once have been a consequent-flowing river, flowing northwards from the centre of the Weald-Artois Anticline and towards the River Thames, which originally cut both the Redhill Gap in the Greensand Ridge and the Merstham Gap in the chalk hills of the North Downs, before its waters were caught by subsequent streams of the River Mole (which itself cuts gaps northwards through the ridge at Betchworth, and through the Downs at Dorking, on its way to the Thames). Today the whole Redhill area is part of the catchment area of the River Mole, and hence the Thames.