Ashgabat

topographic map

Click on the map to display elevation.
About this map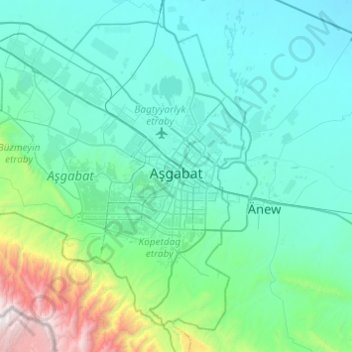 Minimum elevation: 121 m
Maximum elevation: 2,763 m
Ashgabat is very close to the border with Iran. It occupies a highly seismically active oasis plain bounded on the south by the foothills of the Kopet Dag mountains (Turkmen: Köpetdag) and on the north by the Karakum Desert. It is surrounded by, but not part of, Ahal Province (Turkmen: Ahal welaýaty). The highest point in the city is the 401 metres (1,316 ft) high sandhill upon which the Yyldyz Hotel was built, but most of the city lies between 200 and 255 metres (656 and 837 ft) of elevation. The Karakum Canal runs through the city.
Other topographic maps
Click on a map to view its topography, its elevation and its terrain.