Turkmenbashy City

topographic map

Click on the map to display elevation.
About this map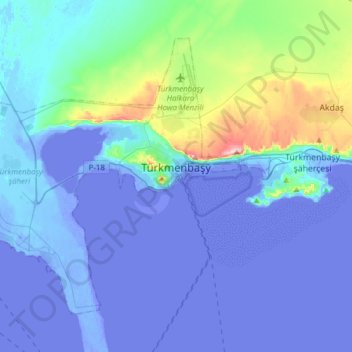 Minimum elevation: -29 m
Maximum elevation: 249 m
Türkmenbaşy (Turkmen Cyrillic: Түркменбашы, Turkmen Arabic; توركمنباشی, also spelled Turkmenbashy and Turkmenbashi, the latter a back-formation of the Cyrillic Түркменбаши), formerly known as Krasnovodsk (Russian: Красноводск), Kyzyl-Su, and Shagadam (Turkmen: Şagadam), is a city in Balkan Province in Turkmenistan, on the Türkmenbaşy Gulf of the Caspian Sea. It sits at an elevation of 27 metres (89 feet). The population (est 2004) was 86,800, mostly ethnic Turkmens but also Russian, Armenian and Azeri minorities. As the terminus of the Trans-Caspian Railway and site of a major seaport on the Caspian, it is an important transportation center. The city is also the site of Turkmenistan's largest oil refining complex.