Wellington

topographic map

Click on the map to display elevation.
About this map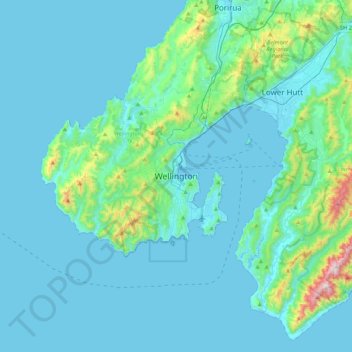 Minimum elevation: -1 m
Maximum elevation: 833 m
Averaging 2,055 hours of sunshine per year, the climate of Wellington is temperate marine, (Köppen: Cfb), generally moderate all year round with warm summers and mild winters, and rarely sees temperatures above 23 °C (73 °F) or below 4 °C (39 °F). The hottest recorded temperature in the city is 31.1 °C (88 °F), while −1.9 °C (29 °F) is the coldest. The city is notorious for its southerly blasts in winter, which may make the temperature feel much colder. It is generally very windy all year round with high rainfall; average annual rainfall is 1,250 mm (49 in), June and July being the wettest months. Frosts are quite common in the hill suburbs and the Hutt Valley between May and September. Snow is very rare at low altitudes, although snow fell on the city and many other parts of the Wellington region during separate events on 25 July 2011 and 15 August 2011. Snow at higher altitudes is more common, with light flurries recorded in higher suburbs every few years.