Edmonton

topographic map

Click on the map to display elevation.
About this map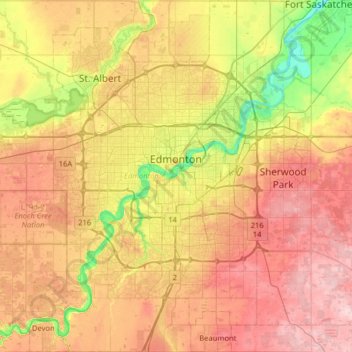 Minimum elevation: 600 m
Maximum elevation: 783 m
Edmonton is on the North Saskatchewan River, at an elevation of 671 m (2,201 ft). It is North America's northernmost city with a metropolitan population over one million. It is at the same latitude as Hamburg (Germany); Dublin (Ireland); Manchester (United Kingdom); and Magnitogorsk (Russia). It is south of Alberta's geographic centre, which is near the Hamlet of Fort Assiniboine. The terrain in and around Edmonton is generally flat to gently rolling, with ravines and deep river valleys, such as the North Saskatchewan River valley. The Canadian Rockies are west of Edmonton and about 220 km (140 mi) to the southwest.